Description
About one third of a family's annual indoor water consumption is used in the shower, and some of that water is wasted before you ever get in. With the new Evolve™ single function handheld showerhead, you can let the water run– brush your teeth, make your bed, start coffee – while you wait for your shower to reach that perfect temperature. Water flow will be slowed when the ideal temperature is reached, then you simply pull the cord to resume normal water flow and start your shower.
Features
54-nozzle full face spray pattern
Low maintenance, with anti-clog spray nozzles featuring a rub clean design.
Trickle/savings mode that is activated when water reaches 95° F (35° C), and resets after each shower.
You will receive a consistent flow rate during your shower, regardless of water pressure.
Environmental Protection Agency's WaterSense-labeled.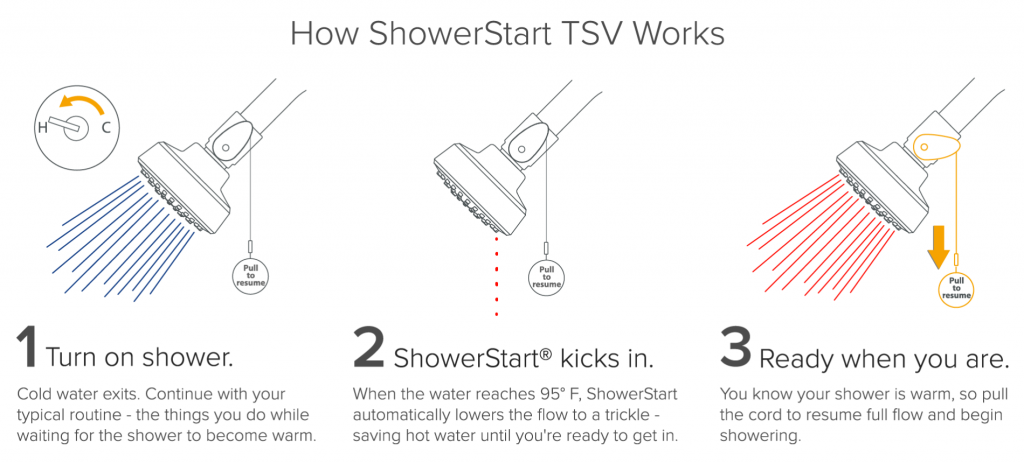 Energy Savings
The pressure compensating technology in this showerhead provides a greater force at a lower pressure, and the non-aerating spray ensures less temperature loss. The ShowerStart™ technology behind this showerhead monitors your water temperature and lowers the flow to a trickle when your water reaches a comfortable temperature. For every minute you are in the shower, you will be saving a gallon of water and the fossil fueled energy used to heat it. Save up to 8,212 gallons of water per year and $246 in utility bills* while experiencing a great feeling – and environmentally friendly – shower.
* Based on a family of three showering daily and saving 2.5 gallons of water during warm-up and 5 gallons while showering. Water treatment costs calculated at $0.03 per gallon (includes waste water). Evolve™ 1.5 GPM Single Function Shower head vs. standard 2.5 GPM shower head.
Warranty
This single-function shower head with ShowerStart™ TSV is also backed by a 3-year manufacturer warranty.
Specifications
Color: Polished chrome
Material: ABS body; solid brass fittings
Type: Non-aerated
Max Flow Rate: 1.5 GPM maximum consumption (80 psi)
Variable Sprays: none
Mount: Wall mounted (fixed)
Standards: Meets or exceeds ANSI specifications; UPC certification
**The ShowerStart™ device on this shower head is not designed for use with tankless hot water heaters. We recommend choosing one of our other low-flow shower heads to save on your water and heating bills.**