Emerald People's Utility District is offering over $1,000 in savings on heat pump water heaters (HPWH) instantly through this special online offer! The prices listed below have already been reduced to reflect the rebate – this is applied instantly so there's no paperwork for you to fill out. And, curbside delivery to your home is included at no additional cost!

Click the image below to purchase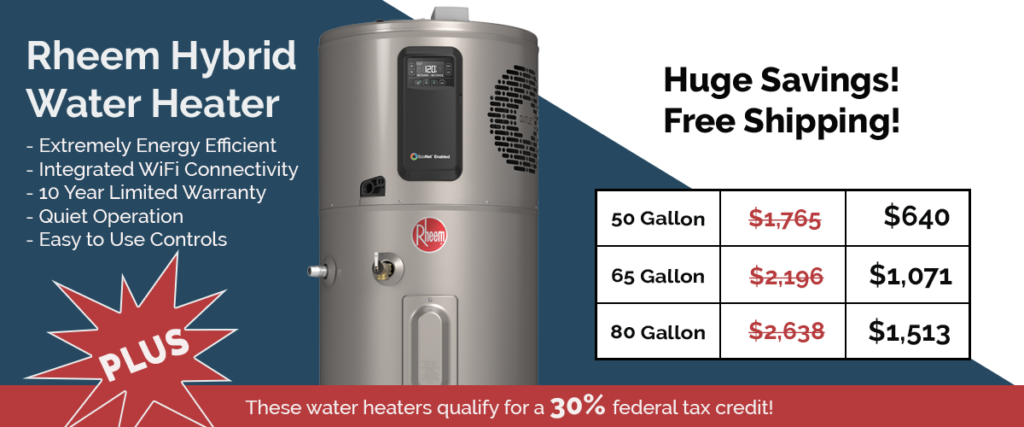 Offer Details:
Your HPWH must ship to and be installed at a residential address with EPUD electric service.
Except in new construction, you must be replacing an electric resistance water heater on a one-to-one basis.
EPUD will call to schedule an inspection sometime after installation.
This offer is limited to one rebate per household.
For further details, please refer to EPUD's Terms and Conditions
Installation must occur within 90 days of purchase
Ordering Notes
Your final, reduced price will be reflected only after you enter your address on the checkout screen.
You will see your final price prior to entering your payment info
Financing Option
Qualifying customers may borrow up to $1,200 interest-free towards the installation cost.
Loan eligibility determined by Pacific Cascade Federal Credit Union.
If using financing, you must be approved for a loan before purchasing the water heater.
For questions on financing, call EPUD at 541-746-1583
After your order is placed:
EPUD will verify your eligibility before your order is shipped. If you have any questions on rebate eligibility, contact EPUD at (541) 746-1583
When your order ships, you will receive a shipment notification email.
Delivery is available M-F between 12-4pm. General Pacific will contact you to schedule your preferred delivery date.
HPWH Resources
Program Terms & Conditions
Suitability
It is up to you to determine the suitability of a HPWH for your home/application. GP Conservation makes no guarantee of fitness for a particular purpose and disclaims any liability for consequential damages arising out of the use of, or the inability to use the HPWH.
Returns
GP Conservation accepts returns of water heaters only under certain conditions. The unit to be returned must be (1) In new, undamaged condition, and (2) in its complete, intact packaging. If these conditions are met, a restocking fee of $140 and a return shipping fee of $120 will be deducted from your refund ($260 total).
Delivery
Curbside delivery service is included with the purchase of a HPWH, and is the only service available through this offer. Inside delivery and/or delivery up or down stairs is NOT available. Someone must be present to sign for delivery. If you need to reschedule your delivery, you must do so at least 24 hours prior to your delivery appointment.
Contact Us
Have questions? Need help ordering? We're here to help! Reach GP Conservation at: 503-907-2899 or sales@gpconservation.com